Miracle Casters
Welcome to Miracle Caster. Our large chair casters offer several advantages over regular chair casters:

Miracle Casters roll more easily over carpet
eliminating the need for a chair mat.

Miracle Casters roll more easily over tile floors.

Miracle Casters raise your chair about two inches.

Miracle Casters are heavy duty casters and well suited for heavy individuals.

Miracle Casters can be useful to individuals with certain types of disabilities, offering an alternative to a wheelchair in some situations.
Miracle Casters use wheels that are nearly 4 inches in diameter. That's twice the diameter of the cheap casters supplied on most office chairs. Because of their larger size, Miracle Casters roll easily over thick carpet or grouted tile.  Think of the huge wheels on tractors and other heavy equipment. Miracle Casters work on the same principle. The bigger the wheel, the easier it will roll over a soft or uneven surface.
Order online at the bottom of this page.
Measurements
Before you buy a set of Miracle Casters, measure the stem of your current casters. Your stem does not have to be the same length as a Miracle Caster stem, but it must be the same diameter. To measure your caster stem, you must first remove the caster. Grip the wheel firmly and pull it straight away from the bottom of the chair. You may need to wiggle it as you pull. The wheel should come off, along with the stem, when you give it a good tug. 
If it does not come off with a tug, do not strain yourself. Some casters, especially on furniture other than chairs, screw on. Currently, we are not offering screw-on type casters.
Once your caster is removed, measure the stem to make sure that the diameter is 7/16 of an inch. This is the most important measurement. Click here for tips on how to measure the diameter of your stem.
The length of your stem is less important because nearly all office chairs have similar stem lengths that are compatible with the Miracle Caster. Miracle Casters have a stem length of 7/8-inch. These casters can usually be used to replace casters with stems between  ¾-inch and 1.25-inch in length, as measured from the top of the mounting nub.
Compatibility & Weight
Your current casters may differ from Miracle Casters in that your casters may have a thick plastic neck that makes the casters appear to blend with and be a part of the chair leg. However, this is a cosmetic difference only. Though Miracle Casters do not have this thick plastic neck, they will still work fine, assuming the stem measurements are as described above. The end of your stem may be flat or rounded. The two types of stems are interchangeable.
Before ordering, make sure that the seat of your chair can be lowered a couple of inches to compensate for the extra height of a Miracle Caster. Otherwise, your legs might not fit under your desk!
Each caster is rated to carry 130 pounds, which means that a set of five will hold a static load of 650 pounds. Miracle Casters are helpful for many heavy individuals. However, for best results, we do not recommend Miracle Casters for individuals over 300 pounds. 
When used on carpet, each Miracle Caster is guaranteed against failure for 10 years.
Please measure your caster stem before ordering!

Most office chairs require five casters. Casters cost $10 each or $50 for a set of 5. Shipping by Priority Mail is about $9-$12 to most U.S. locations.

We also offer optional sockets to attach Miracle Casters to desks and other furniture.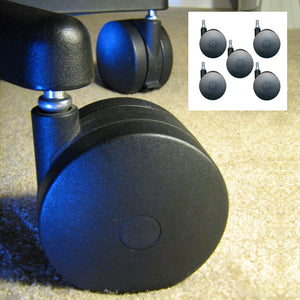 Miracle Caster Large Chair Caster with 7/8" Long Stem (7/16" Diameter Stem)
Sale price Price $50.00 Regular price Unit price / per
Received your casters and they seem to be working great.
  I can move on the rug!
Excellent. This looks perfect and much better than replacing the flimsy chair mat I bought barely a year ago! Thanks.
... the Miracle Casters are perfect for the Herman Miller Aeron chairs. The fit is perfect, the caster slides in w/ a little resistance and doesn't have any problems being loose at all. 
I just wanted to say "thank you" for the excellent casters and the wonderful service at Miracle Casters. The casters made it so much easier to roll on my desk mat which kept getting indentations that would make it hard to roll after sitting for a while . . .  Your service and product are wonderful. . . .
Goodbye ugly plastic mat!  Your casters went on an Aeron chair, and actually improved an already-excellent product.  I've got a pretty bad neurological condition which causes major pain; the Aeron has helped that, and your casters are little 'miracles' too, making a good product better.  ... Keep up the good work!  Many blessings.